14-DAY BEST OF CHINA TOUR
BEIJING - GREAT WALL - SUMMER PALACE - XI'AN - CHENGDU - GUILIN - LONGSHENG TOWN - YANGSHUO - SHANGHAI - SUZHOU
This 14-day China tour takes you from Beijing, the capital of the People's Republic of China to Xian, Chengdu, Guilin, Yangshuo and Shanghai. This in-depth tour covers all the best attractions of China from history, culture, leisure, to nature. Starting at the Beijing city tour, you will get to see the Summer Palace, the Forbidden City and the Tianamen Square. Also, you will get to visit the magnificent Great Wall of China, and the Terracotta Warriors, depicting the armies of Qin Shi Huang, the first Emperor of China. Enjoy your day in the busy streets of Chengdu and Shanghai city and embark in a journey of culture and nature in the Guilin & Longsheng town with terraced rice fields, the Giant Panda breeding research centre, Yangshuo & Li River Cruise and Suzhou old water town tour with a rickshaw ride.
Trip code : 241CN1819
Duration : 14 days
Destination : China
Travel Dates : 2020/2021
Explore the mixture of tradition and modern China
Walk along the incredible Great Wall and stroll along the Sacred Way
Explore some of Beijing's most iconic sights, including Tiananmen Square, Forbidden City and Temple of Heaven
Discover Xian, once ancient capital of China and the start of the famous Silk Road
Come face to face and be amazed at Xian's most famous army, the Terracotta Warriors
Marvel at the sparkling city of Shanghai and enjoy the famous view of Shanghai Harbour
Enjoy a panoramic view of modern Shanghai from the Shanghai World Financial Centre
Get up close and personal with the Pandas at Chengdu Giant Panda Breeding Research Base
Take in the breathtaking views of peaks and pinnacles in Yangshuo while cruising on the Li River
Take a short hike to explore the dramatic Longsheng rice terraces in Guilin
&nbsp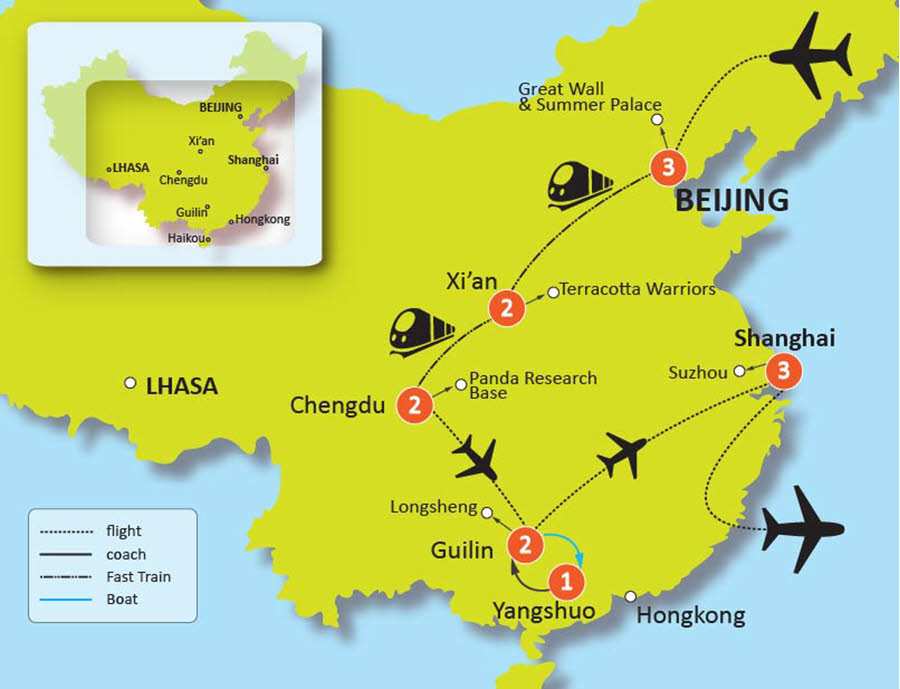 • Accommodation: 4-star Hotels as listed in the itinerary.
* Check-in & Check-out time: generally check in is after 2 pm and check out before 12 pm (noon). Early check-in and late check-out are subject to room availability and may generate additional full day room rate.
• Transportation: Coach, boat, high speed train, domestic flights.
• Sightseeing: As outlined in the itinerary you will be escorted with an English-speaking guide; Service of local guide.
• Private Transfers between airports, hotels and scenic spots while sightseeing in each city or area by private air-conditioned vehicle with driver and English-speaking guide as listed in the itinerary.
• Entrance fees of the scenic spots as listed in the itinerary.
• Meals: Meals as specified in the itinerary. B stands for western and Chinese BUFFET breakfast in the hotel, L/D stands for Chinese lunch/dinner in local restaurant
*Cost is subject to class availability and exchange rate, may change without prior notice.
In order to enter China, foreigners shall apply to the visa-issuing authorities stationed abroad for a visa, except as otherwise provided for in this Law.
Note: The Chinese Embassy and Consulates General in Australia do not accept visa applications directly submitted by ordinary passport holders. Visa applications of ordinary passports are required to be submitted to a relevant Chinese Visa Application Service Centre located in Canberra, Sydney, Melbourne, Perth or Brisbane according to the services areas.
Appropriate types of ordinary visa shall be issued to foreigners who enter China due to non-diplomatic or official reasons including work, study, family visit, travel, business activities and talent introduction.
Travel agencies that organize inbound tourism in accordance with relevant State regulations may apply for group tourist visas from port visa authorities.
Foreigners who apply to port visa authorities for visas shall submit their passports or other international travel documents, as well as relevant information of specific application matters. They shall go through relevant formalities in accordance with the requirements of the port visa authorities and enter China at the ports where they apply for visas.
Visas issued by port visa authorities shall be single entry and the duration of stay shall not exceed 30 days.
Foreigners may be exempt from applying for visas if they hold connected passenger tickets and are in transit to a third country or region by an international aircraft, ship or train via China; will stay for not more than 24 hours in China without leaving the port of entry; or will stay in the specific zones approved by the State Council within the prescribed time limit. Where foreigners need to enter China temporarily, due to force majeure or for any other urgent reason, they shall apply to exit/entry border inspection agencies for going through the formalities for temporary entry. The duration of stay for temporary entry shall not
exceed 15 days.
BOOKING TERMS & CONDITIONS
1. BOOKING
Passenger names must be provided exactly as per passport at the time of booking. Any spelling corrections made after a deposit is paid must be sent in writing and will incur additional fees, including local suppliers' fees, admin fees, any ticket/voucher re‐issue fees, etc.
Tweet World Travel reserves the right to correct any errors in rates quoted/invoice or calculated, or any omissions made at any time during your booking. Any verbal quote given is an indication only of the final price and is subject to confirmation in writing. Even once payment has been paid in full but an error in price has been found, Tweet World Travel reserve the right to correct any error of outstanding amount.
Any booking valued at or less than $1,000 must be paid in full amount after booking confirmation. Some airfares or services must be paid in full at the time of booking.
1.1 Deposit
You will be required to pay deposit after booking confirmation:
Private Tours or small Group Tours is $500 Per Person
Large Groups (more than 15 people) / School Tours is $700 Per Person
Short packages, shore excursion, hotel etc. is $250 Per Person
If you cancel your booking at any time, your deposit is non-refundable, or depend on each package's terms & conditions.
Receipt of Deposit
By sending/paid a deposit the client agrees to be bound by the terms, conditions and responsibilities set forth in this booking. The client also agrees that:
All persons are fit and physically able to partake unaided in their chosen activities/packages/tours /cruise etc. as outlined in the itinerary.
All parties acknowledge the physical demands and hazards involved in the tour or cruise they will be undertaking and have chosen to participate at their own risk.
All parties understand that any medical or dietary information provided to us does not, under any circumstances, make Tweet World Travel liable if a particular condition exacerbates while on tour or cruise which might affect their ability to participate in any portion of the tour or cruise
1.2 Final balance
Outstanding balance depends on the type of service you are undertaking:
For private tours/packages or other products, outstanding balance is due 65 days before departure. If the outstanding payment is not received by day 65, your booking will automatically be cancelled.
For large group tours and school tours, outstanding balance is due 90 days before departure. If the outstanding payment is not received by day 90, your booking will automatically be cancelled.
2. PAYMENT
All airfares must be paid in full at the time of booking confirmation
Deposit will due immediately or within three day of your booking confirmed. It will be applied based on the specific product
Final balance will be due before 65 days or 90 days before departure date

You can make a payment by Enett, Bank Transfer, Cheque or Credit Card
Credit Card Fee
The following Card Fees apply:
Visa Credit Card - 1.8% fee and MasterCard Credit Card ‐ 1.76% fee applies.
American Express (Amex) ‐ 2.8% fee applies.
For late payment or urgent bookings, please notify us via email at payments@tweetworldtravel.com.au
3. LATE BOOKING
Any booking made within 110 days before departure will require payment in full when the booking is confirmed.
Bookings made less than 60 days prior to departure for Group Tours or Escorted Tours will incur a late booking fee of $120 per person and must be paid in full at the time of booking.
4. AMENDMENTS FEES
After bookings are deposited, any amendment has to be requested in writing and incurs $69 fee per person, plus any additional costs and administrative expenses incurred in arranging the alteration.Alterations will be made at our discretion and may not always be possible.
5. SAFETY NET PROTECTION
Safety Net Protection is not included in our tour/cruise packages. If you wish to purchase safety net protection, an additional fee of $95 per person will occur. This is only valid for one-time use (claim).
· Safety Net Protection enables passengers to amend their tour and/or river cruise 15 days prior to departure, to another tour/cruise on the same destination departing in the same year (once only) without any applicable cancellation charges or penalties. The new tour must be at the same cost or higher, but cannot be at lower cost than the initial tour booked. If the passengers choose the higher cost option, then the additional difference amount must be paid. However, no modifications shall be accepted less than 15 days prior to departure.
· Safety Net Protection is payable immediately at the time of making deposit payment. Once purchased, Safety Net Protection is not refundable
· Safety Net Protection does not apply for airfares, or third-party fees and charges.
· Safety Net Protection allows for amendment ONLY, not cancellation.
6. TRAVEL VOUCHER
Your travel voucher will be issue and send that to you or your travel agent from 15 -30 days before your departure. Make sure you have your travel voucher before you travel.
7. CANCELLATION
Please check with your consultant, your travel insurance provider or read our cancellation policy carefully before cancelling or amending your booking. For a specific tour / cruise package, a separate cancellation policy might be set out and applied to your booking.
Please see the below for our general cancellation policy.
7.1 Cancellation by customer
Before the travel date the following fees will be apply:
Private Tours or Group Tours/ Packages

Large Group Tours & School Tours

(More than 15 people)

65 days or more before departure – loss of deposit

90 days or more before departure – loss of deposit

64‐40 days before departure – 55%

89‐79 days before departure – 65%

39‐31 days before departure – 75%

78‐61 days before departure – 85%

Within 30 days of departure – 100%

Within 60 days of departure – 100%

Any 'no show' – 100%

Any 'no show' – 100%
After the trip has commenced, we are unable to refund any amount for unused services due to your unwillingness, early departure, late arrival, or missed days on tours.
If your tour/package includes international/domestic flights the airlines cancellation policies will be apply.
7.2 Cancellation by Tweet World Travel
For group set departure date tour, if the minimum number of the group is not reached, we reserve the right to cancel or vary the tour 30 days prior to departure. If this event occurs, an alternative guaranteed travel date will be offered. Should these options not be acceptable Tweet World Travel will refund the full price paid, less visa cost.
If a tour is cancelled or varied prior to departure due to unforeseeable circumstances such as, but not restricted to, severe weather conditions or force majeure, Tweet World Travel will refund all monies prior to departure less visa cost, fuel surcharge and any other cancellation fees levied by airlines and other third parties.
7.3 Cancellation by Local Supplier or Third-Party Travel Provider
If the Local Supplier or Third Party Travel Provider changes any part of your booking for reasons beyond its control, for example, if a Local Supplier or Third Party Travel Provider changes its schedules, overbooks, or if there are any changes in applicable surcharges, fees or taxes, we will use our reasonable endeavors to notify you. If any such changes result in your Travel Product costing more or otherwise being materially different, then you may cancel the Travel Product and we will refund any monies already paid less any fees charged by us under these terms and conditions and by the Local Supplier or Third Party Travel Providers under the terms and conditions you agreed with them.
8. PUBLICITY
When you book with Tweet World Travel, you agree that we may use images of you taken during the trip and any comments made in writing by you regarding the trip, without recourse to you and without compensation to you, for publicity and promotion purposes only through whatever medium we choose.
If you do not want your images to be displayed, you have to advise us in writing at the time of booking, or when you collect your travel documents.
9. PRIVACY
Tweet World Travel collects information about you (including health information where necessary) to process your travel arrangements, facilitate your participation in loyalty programs and conduct marketing activities and market research. If the information is not provided, we may not be able to make travel arrangements for you. We may disclose your personal information to our related companies, carriers, travel service providers, organisations which provide services to you.
For our full Privacy Policy, see enclosed LINK
FAQ & Travel Blog